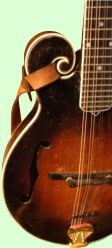 After a few months I had learned some simple fiddle tunes and could get around them pretty well. I had heard a bit of Bill Monroe's playing on record and was impressed, but my favorite at the time had to be Sam Bush. His playing was fast, clean and had a bit of rock guitar influence that I could relate to. He and David Grisman were the big dogs on mandolin in the late 70's.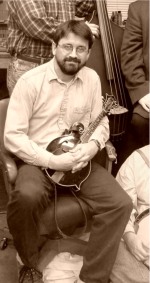 It was a few years later that I casually decided to pick up a few Monroe chops. Easy, right? I thought so until I sat down with the "Bluegrass Special." That was a 12-bar blues riff in A recorded in 1945 that featured Stringbean on banjo and Sally Ann Forrester on accordion. I tried to play along with old Bill (31 at the time), and even though I could learn the notes, I just couldn't make it sound the way he did. Such speed, power and expression — every downstroke dripping with old-time blues. Thus began my journey into the Bill Monroe sound that continues to this day.

A friend on campus told me of a band needing a mandolin player. Now, thirty years and several bands later, it's still as fun as it was the first day I learned a two-finger G chord. Like I said, I also play and teach guitar and banjo (as well as bluegrass upright bass, in case anyone's interested), but the mandolin has always been my "money" instrument. Of course, I use that term in a highly relative sense. If you hear me say I make hundreds of times more money playing mandolin than banjo, you'll know I'm talking about hundreds of dollars versus zero dollars, respectively.